The 2016 Pre-Ghosties were a severe mess this year. In a severe overestimation of my own awesomeness, I attempted to live-blog the ceremony during the 58th Annual Grammy Awards… But, well, wine got in the way. We're now at the point where nobody cares about music that came out in 2015, which is okay, because this award show has and always will be entirely irrelevant!
The remaining categories will slowly be announced whenever I find the time. Keep your eyes on Twitter for future updates.

---
PRE-GHOST ALBUM OF THE YEAR:
Grimes – Art Angels
KENDRICK LAMAR – TO PIMP A BUTTERFLY
Cam – Untamed
Bully – Feels Like
Carly Rae Jepsen – E•MO•TION
Bilal – In Another Life
Eskimeaux – O.K.
Drake – If You're Reading This It's Too Late
Torres – Sprinter
Gavin Turek + TOKiMONSTA – Hemisphere
A part of me wishes there were two separate categories for Pre-Ghost Album of The Year – one for confronting reality and another for escaping it. The latter would have been dominated by Carly Rae Jepsen's E•MO•TION, with Grimes' Art Angels trailing in a very close second. These were, perhaps, the two albums I revisited the most in 2016.
And yet, I find it absurd that anyone would suggest anything should top Kendrick Lamar's To Pimp A Butterfly as Album of The Year. You can't ignore the overwhelming critical acclaim. You can't ignore the chants of "We 'gon be alright" at Black Lives Matter protests. You can't ignore that David fucking Bowie cited this album as an influence.
While I recognize there's some validity to Justin Charity's piece "Why Did Everyone Claim To Enjoy Kendrick Lamar's 'To Pimp A Butterfly'?", I'm not going to dismiss a complex, occasionally flawed piece of art just because it dared to make me feel uncomfortable. Taylor Swift made a stellar pop album. (It was nominated last year!) But we all know the Grammy Awards got this category wrong.
---
PRE-GHOST SONG OF THE YEAR:
Diet Cig – "Harvard"
Open Mike Eagle f/ Gold Panda – "Ziggy Starfish (Anxiety Raps)"
GRIMES – "FLESH WITHOUT BLOOD"
Lo-Fi-Fnk – "U Don't Feel The Same"
Boxed In f/ Cocknbullkid – "Lo Life"
Eskimeaux – "Broken Necks"
M.O. – "Preach"
Made In Heights – "Ghosts"
Torres – "Sprinter"
Little Boots – "Better In The Morning"
If we were going to divide this category into similar categories – one for confronting reality and another for escaping reality – Open Mike Eagle would hands down sweep this category… Or, well, maybe "Lo Life" would give it some solid competition? It's a tough call.
But that's all irrelevant, because "Flesh without Blood" lived up to the claim laid out in Lindsay Zoladz's excellent review for New York Magazine – "superhero music for introverts, fight songs for people who did not realize they were strong until the perfect song came along and told them so." This track brought me back to life after months of feeling like the shittiest human being on the planet, and for that reason alone, it deserves this award.
---
PRE-GHOST REMIX OF THE YEAR:
Sir Sly – "You Haunt Me" (Amtrac Remix)
Le Youth – "R E A L"
Spazzkid f/ Neon Bunny – "Daytime Disco" (starRo Remix)
Omi – "Cheerleader" (Felix Jaehn Remix)
Big Freedia – "Ol' Lady" (Lazerdisk Remix)
Tinashe – "All Hands On Deck" (Giraffage Remix)
ETTA BOND – "18" (CHRIS LOCO REMIX)
PANG! – "Touch"
Alice Boman – "Be Mine" (Jaako Eino Kalevi Remix)
Marian Hill – "One Time" (Aquilo Remix)

A truly great remix is even better than the original. In rare cases, it has the potential to elevate a song to its purest form – surpassing the source material by establishing a deeper, more meaningful connection with the lyrics and vocals. Blah, blah, blah! [Insert something here about "synergy".]
To put it in the gentlest terms, the original version of Etta Bond's "18" was a bit of a scattered mess. Producer MNEK aims to capture the '90s house vibe that makes his own work so damn appealing, but it backfires against Bond's woozy, spoken-word delivery and subject matter that speaks more to the hangover you're nursing after a night at the club.
Chris Loco aims to match her energy, and the resulting track makes you want to gyrate with an empty bottle of whiskey in a gutter. It makes bad decisions sound sexy! And because of this, it's the clear winner in this category (even if I adore the Lazerdisk Remix of Big Freedia's "Ol' Lady").
---
---
BEST SONG FOR FEELING THE WORST
Marina and The Diamonds – "I'm A Ruin"
Ashley Monroe – "If The Devil Don't Want Me"
Phillipa Soo – "Burn"
BOXED IN f/ COCKNBULLKID – "LO LIFE"
Young Galaxy – "We're No Good"
Mavis Staples – "Your Good Fortune"
Sofia Talvik – "Lullaby"
Bilal – "Spiraling"
Cam – "Burning House"
Adult Mom – "Sorry I Was Sorry"

The past year was packed with downright devastating vocal performances. Mavis Staples unleashes her soul on "Your Good Fortune", practically stabbing us all in the heart along the way. Catherine McCandless of Young Galaxy exercises so much restraint on "We're No Good" that you feel like her voice is going to crack and shatter into a billion pieces. You've got Cam, Sofia Talvik and, for the love of all things heartbreaking, Phillipa Soo in frickin' Hamilton.
And yet, here I am, giving the ultimate prize to a song that thrives on detachment. "'Cause I'm a low life, and there's nothing I can do about it," sing Oli Bayston and Anita Blay over a minimal electronic instrumental that calls to mind The Postal Service's classic 2003 album Give Up. It's the sense of numb hopelessness that pushes this far beyond the competition, making their sadness seem overwrought and all too performative.
---
SEXIEST SONG FOR THE SEXIEST PEOPLE
Jeremih – "oui"
THRILLERS – "Can't Get Enough"
Motion Cntrl – "You Got Me"
Carly Rae Jepsen – "I Didn't Just Come Here To Dance"
George Maple f/ GrandeMarshall – "Where You End and I Begin"
SPZRKT – "Blind Man"
Janet Jackson – "No Sleeep"
RO JAMES – "PERMISSION"
Emily King – "Sleepwalker"
Nao – "Apple Cherry"

Previously, I had announced Janet Jackson's "No Sleeep" as the winner in this category, stating with a stupid amount of confidence that, "Nobody, and I mean nobody, does sexy better than Janet Jackson." And, well, much as I hate to admit this, I was wrong about this.
Ro James topped Janet with what is, hands down, the sexiest song I've ever heard about sexual consent. The world of pop and R&B is saturated with a "you know you want it" mentality that only serves to perpetuate rape culture. On "Permission", Ro James doesn't hold back in making his lust known, but it's all expressed with one simple invitation for his lady friend – "give me that green light". He's obeying the traffic rules of the bedroom. Nothing, and I mean nothing, is sexier than that.
That said? Sexy came in many other forms this year. You could sensually writhe to the sultry saxophones on Motion Cntrl's "You Got Me". You could do a goofy-hot dance to Carly Rae Jepsen's's "I Didn't Just Come Here To Dance" in nothing but your underwear. Or you could get seduced by a cheesy pick-up line, like the one leading the chorus of SPZRKT's "Blind Man".
---
SEXIEST SAD SONG
Beatrice Eli – "Trust Issues"
Beldina – "Can't Leave You Alone"
Kate Tempest – "Bad Place For A Good Time"
Raury f/ RZA – "CPU"
The Internet – "Just Sayin/I Tried"
Thundercat f/ Kamasi Washington & Flying Lotus – "Them Changes"
Kyla La Grange – "Skin"
ELOHIM – "XANAX"
Sevdaliza – "That Other Girl"
Annie – "Out of Reach"

Both in and out of the mainstream, music has been dabbling in darker, murkier territory. I like to refer to this as the Weeknd Effect. Before he topped the charts with "The Hills" and "Can't Feel My Face", we were already witnessing Mr. Abęl Makkonen Tesfaye's influence on the world of music. And while he isn't the sole inventor of the sad-sexy approach, his growing popularity explains why everyone from Selena Gomez to Ariana Grande wants to hop on the bandwagon.
It's now become commonplace for our earbuds to be confronted by slow, ominous beats that sound like they're trying to get us drunk and get in our pants. Sexy tracks that, lyrically, venture into melancholy or heart-wrenching themes.
You might have figured out that's what this category is all about. Emotionally, the nominees cope with feelings of desperate longing, romances gone wrong and insecurities about the "other woman".
Yet the winner, Elohim, is dealing with a relationship that has nothing to do with another person. It's happening inside of her body. She paints a disturbingly accurate portrait of anxiety over a track that puts a swerve into your hips, whilst simultaneously hypnotizing you into a numb trance. "Xanax" is a frank, open exploration of mental health — a love letter to anyone who fails to understand that all of our brains don't operate the same way.
---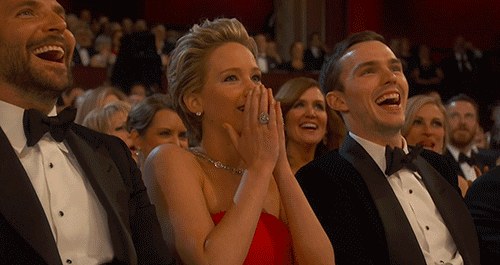 ---
BEST SONG WITH A ONE SYLLABLE TITLE
Vallis Alps – "Oh!"
Years & Years – "King"
Postiljonen – "Go!"
TEEN GIRL SCIENTIST MONTHLY – "HOURS"
Braids – "Taste"
Allie X – "Good"
Made In Heights – "Ghosts"
M.O. – "Preach"
Worriers – "Plans"
Jones – "Deep"

Who KNEW that the most competitive category would be one that's completely random and makes zero sense whatsoever? Everyone is a winner here (except for the nine losers who are not Teen Girl Scientist Monthly). Look, I realize it's kind of suspect that "Hours" wasn't even nominated for Song of the Year — while "Ghosts" and "Preach" were — but this is no worse than
---
BEST SONG FOR BUTTS
Missy Elliott f/ Pharrell Williams – "WTF"
Rae Sremmurd – "This Could Be Us"
Scooter Island f/ Junglepussy – "#NOTYOURS"
Nicki Minaj f/ Drake + Lil Wayne – "Truffle Butter"
Ciara f/ Missy Elliott + Pitbull – "That's How I'm Feelin'"
Zhu f/ Bone Thugs-N-Harmony – "Hold Up, Wait A Minute"
Junglepussy – "Picky Bitch Checklist"
---
---
BEST NEW ARTIST
Cam
Leon Bridges
Shamir
Diet Cig
Natalie Prass
Bully
Day Wave
Raury
Allie X
Courtney Barnett